Your garden is done for the year. Your tools are put away. You've composted or disposed of the remnants of your crops. All of your vegetables have been eaten or canned. You are ready for next year, both mentally and physically. Here's how to get started with the plans for next year's crop.
Reflect On The Past Growing Season
Some things to think about here include which crops were a success? Which ones failed? Was there are anything that didn't go quite as planned (and there always are)? How can you improve on this past crop? Spend a bit of time going over everything that happened this past growing season and come up with ways to improve. There are plenty of resources out there that can help you determine what you did wrong or could do better. Get a notebook and jot some of these things down. You can use the tips next season when planting your new crops.
Sort Your Seeds
If you've gathered seeds from your plants, take the time to sort them into labeled containers. Some seeds may need to be dried or processed (in a way) before they're ready to be planted next year, so now is the best time to do this. Take note of which ones you have plenty of, as well as which ones you'll need to buy in order to supplement your "stash." You might also want to buy new seeds for new crops that you haven't planted before.
Plot Out Your Next Garden
After reflecting on what you'd like to plant and noting all of the seeds that you have, spend some time sketching out your next garden's layout. You'll need to rotate your crops in order to keep the soil healthy, but do you also want to expand on any sections? Is there anything that you want less of or more of? Also consider the fact that you'll need some walkways in order to properly weed, harvest, and water your plants. Since you can't get outside to physically work on your garden, this is the time to design it and purchase anything that you'll need for it, such as stepping stones or wheeled carts.
Get Your Seed Starting Spot Ready
Before you can start growing the seedlings for next year, you have to clear space for them. If you have a space in your basement or sun room where you tackle this, you'll need to clean it, set up your growing lights, and get everything ready – short of actually planting the seeds, of course, as it's still too early for this. After all of this set-up, you'll be ready when the time comes!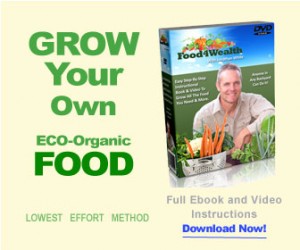 Do you want to eliminate your fresh food bill?
If you've ever wanted to be self sufficient and grow your own food, then I highly recommend that you check out the Food4Wealth system for growing quality food without all the problems.
The Food4Wealth system can help you build a sustainable garden that regenerates all by itself.
Pic by Alan Levine