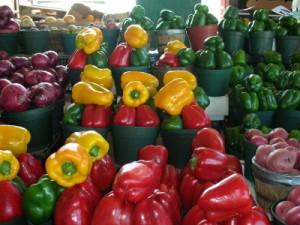 Red, green, yellow and purple are all popular colors of bell peppers. This universal vegetable is native to North America and is not only used for cooking, but also decoration. Bell peppers are packed with vitamins including vitamin A and C, and do not lose their potency when cooked.
Although bell peppers take much longer to grow from seeds than other vegetables, they will yield several peppers on one plant with proper care and fertilizer. Generally, bell peppers, when planted from seeds will be ready to harvest in 10-12 weeks.
How to Grow the Best Tasting Bell Peppers
1. Prepare the ground before planting bell pepper seeds by turning the soil and adding organic matter such as peat moss. Bell pepper plants can be grown in rows or as single plants. Each plant may produce 4 or more peppers if taken care of throughout the growing season.
2. Bell peppers can be planted from seed, but due to the long growing season, it is probably best to buy plants when they are 4 to 6 inches tall. However, if you choose to plant from seeds yourself, plant seeds about ½ inch in the ground and 3 inches apart in rows or seed starter containers.
3. When plants reach 4 – 6 inches tall, and all possibility of frost has passed, transplant to your garden on a cloudy day or in the evening to prevent wilting. Create small wells, fill with water and allow to soak into the ground before planting bell pepper plants. The wells help retain moisture when watered.
4. Water bell pepper plants often so they do not wilt. Once pepper plants wilt they lose their yield and quality.
5. Bell peppers will be ready to pick when they are shiny and firm, about 8 – 10 weeks after transplanting. The more often you harvest, the more peppers that will grow. If peppers remain on the plant, likely they will turn yellow, red or purple and this will not affect the taste too much.
Other helpful tips for growing delicious bell peppers
Pepper plants grow best in warmer seasons and do require at least 6 hours of sunlight per day, so plant in full sun if possible.
Bell peppers are prone to some diseases especially in milder climates. Ensure you inspect leaves for spots, which are caused by bacteria and fungi. Leaf spots can be remedied with a treatment of sulfur, neem oil or other types of fungicides. Read all labels for safe application.
Peppers may also attract a number of insects that will affect plant growth. Flea beetles, leaf miners and aphids can all infect a plant's growth. There are a number of insecticides on the market including organic such as sulfur and Bt-based products. Read all labels before using on your bell pepper plants.
Once harvested, bell peppers should be stored in a refrigerator, and are good up to 3 days, cooked or cut and freeze for later use.
I highly recommend you check out Botanical Interests for heirloom seeds.
Botanical Interests has over 500 high-quality varieties guaranteed to germinate and provide you great vegetables. No GMOs here. Not only is the seed inside their packets the highest quality available, their packets are designed to give you the information you need to be a more successful gardener!
Pic by joe beasley.