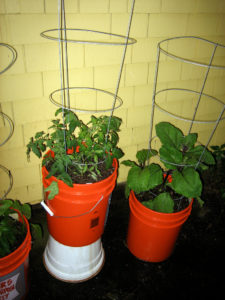 There are certain times of the year where, no matter your climate, you'll have a hard time getting vegetables to grow in your outdoor garden. However, this doesn't mean that you have to go without fresh, home-grown veggies, or buy them from the grocery story. Instead, you can grow some vegetables indoors, wherever you have space. Here's how:
Plant Sprouts and Lettuce
Sprouts and lettuce are two of the easiest vegetables to grow indoors, so they should definitely be on your list. In fact, sprouts are just about the simplest things to grow, period. They don't even need soil! All that you need to do is place the seeds in a jar, soak them for 8 hours, cover the jar with mesh or cheesecloth (or use a special sprouting jar that comes with a slotted lid) and add some additional water. Within a few days, you'll have edible sprouts! Lettuce can be just as easy to grow, although you'll need some soil to plant it in. It will grow nicely in a small planter, as long as you thin out the plants as they begin to grow. It does need to be kept cool though, so either place it somewhere with natural sunshine, or, if you use a grow light, keep an eye on how long the plants are under it.
Start a Small Herb Garden
Fresh herbs always taste better than processed, jarred ones. Herb gardens also don't take up much space, and can fit onto even the smallest windowsill (for the most part, of course), so you can grow all of the herbs that you want indoors year-round. You can either choose an herb garden kit, which normally comes with seeds, small planters, soil, and anything else that you may need, or create your own. Basic herbs to include are parsley, chives, oregano, sage, thyme, rosemary and basil, but feel free to add and subtract from that list depending on your own needs.
Don't Forget About Root Vegetables
Things like carrots and radishes flourish indoors, as long as the soil that they are planted in is deep enough. You can even plant potatoes in your house, if you have the space. All of these vegetables are easy to grow, and will even ripen indoors, allowing you to enjoy them year round, no matter the weather.  Potatoes work best when grown in a large bucket or deep container, as their roots need space to spread out. Smaller veggies like carrots and radishes need less space, but plenty of light.
Grow Varieties of Tomatoes and Peppers
As long as you have the right system in place – including grow lights and soil depth – you can plant just about anything indoors. This includes tomatoes and peppers, some types of which will thrive inside your house. Of course, certain types will grow better than others indoors. Aim for smaller tomatoes, such as the Tiny Tim, Patio or Pixie varieties. These types will not spread out as much as the standard, outdoor-friendly types. As far as peppers are concerned – most will flourish indoors in the right conditions. Hot peppers need warm temperatures and plenty of light, so supply both of those, and you'll be in good shape.

Pic by 4johnny5