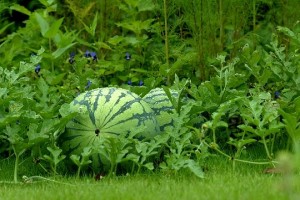 When the warm weather hits, there are many people who love to kick back and enjoy a refreshing slice of sweet and juicy watermelon. Purchasing large watermelons from the store is one option but perhaps something better would be to grow your own personal crop to pick anytime you please. Growing watermelon does not have to be a big deal.
Although it's been said that growing watermelon can be difficult to grow and certainly not recommended for beginner gardeners, there are a few quick tips to consider to help you on your way to a large healthy crop of your own watermelons.
Soil
Watermelons require rich fertile soil and grow best when the ground is warm. One to two weeks prior to planting watermelons, make sure to cover the ground with a dark plastic sheet. This will raise the ground temperature and moisture compared to uncovered ground and usually promotes early growth and development.
Light
Watermelons also prefer growing in full sun, so make sure you have a nice spacious sunny patch in the garden. Without adequate sunlight, the watermelons will not develop properly, which means you may end up with a wasted crop in the garden.
Space
Since watermelons grow on vines that like to creep all over the garden, it's important to give them adequate space away from other crops. As the plant grows, the vines will twist and spread to cover more ground and gain more nutrients for growth.
If you notice that the vines are beginning to creep over other crops, simply twist them in another direction or guide them back to their allocated space. The creeping of these vines makes growing watermelon fun to watch.
Planting
Always make sure to buy heirloom watermelon seeds from a good garden center. Most watermelons purchased in shops are hybrids and their seeds are not meant to grow with. The beauty with heirloom seeds is once you've picked those crops, you will be able to save those seeds for another planting season.
When planting watermelon seeds, only sow them on hills and only 1 inch deep. All of the seeds also require ample spacing from one another to promote healthy growth. Make sure to plant seeds 12 inches apart on the hills.
Watering
When growing watermelon, ample watering is also required. Watermelons have a shallow root system and need proper watering to prevent them from drying out too much. Mulching helps retain moisture in the soil but this should only be done once they've passed the most vulnerable stage of growth. When they have grown their first set of true leaves, mulching can begin.
Problems: Insects and Fungus
Slugs and cucumber beetles just love to munch on watermelons, so watch out for these pests. If the crop is healthy, you shouldn't worry too much about them since healthy plants are less likely to get attacked. If you do notice a large population of these pests, try to take care of them with organic pest control.
Another major problem that watermelon can encounter is the infection from fungal disease. This occurs when the leaves get wet under heat which promotes the fungus to grow. If you begin to notice a white powdery coating on your leaves, especially the ones closest to the soil, they have fungus.
To avoid fungal disease, simply water the plants early in the morning and try to avoid getting the leaves wet. If the disease does arrive, there are organic products to help.
Growing watermelons can be a little difficult for beginner gardeners but it's certainly rewarding when you get to slice into a juicy treat on a hot day. Just remember that watermelons like heat but not extreme heat and need a good amount of moisture without staying soggy. By following a few simple tips, you should be on your way to a nice healthy crop of watermelons.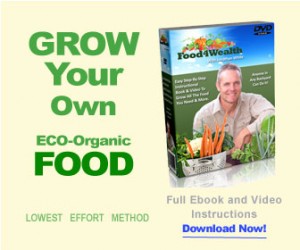 Do you want to eliminate your fresh food bill?
If you've ever wanted to be self sufficient and grow your own food, then I highly recommend that you check out the Food4Wealth system for growing quality food without all the problems.
The Food4Wealth system can help you build a sustainable garden that regenerates all by itself.
Pic by kumon.