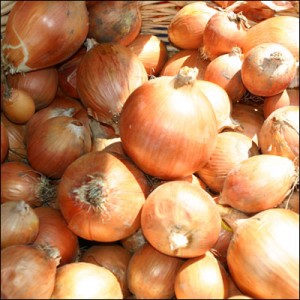 Onions are flavorful, healthful and grow best during the cooler seasons. Not only are onions beneficial for fighting disease and many ailments, but they are also easy to grow in the ground as well as in containers.
Several varieties of onions are available, and while known for their vitamin content, they are more likely grown and used for their flavor in numerous dishes. Check your region for the best planting times with the USDA Plant Hardiness Zone map.
How to grow the most delicious and hardy onions from seed:
1. Prepare soil 8-10 inches deep in the ground. Soil should not be too dry or too moist. Onions grow best in cooler, dryer soil as seeds. Ensure onion seeds have adequate drainage as well.
2. Plant seeds ¼" in the ground and 1 inch apart during the cooler months of October to December. Onions are hardy vegetables and can even survive during colder months in most climates.
3. Once the onions have grown about 6 inches above the ground, thin seedlings to 3 inches apart. Use the green tops for salads, cooking or wash, chop and freeze for later use.
4. Water onion seeds once a week during the warmer months, and more often if you live in a dryer climate.
5. Onion bulbs will need some kind of fertilizer to grow the best bulbs. Fertilize onion bulbs once leaves appear above ground, then again when there are five to six leaves. Spread fertilizer between plants and rows and gently work into the ground. Follow with a watering.
6. The more leaves that grow, the larger the onion bulb will be. Onions will be ready to harvest once the leaves fall over. If seeds are planted in December or January, then the first bulbs will be ready in late spring.
7. Pull the entire bulb from the ground and allow it to dry in your garden or planter for a day or two to dry out.
8. After a couple days, trim the leaves and roots; allow to continue drying in baskets or boxes.
You can safely store onions in your refrigerator or another cool dry place like a garage or basement until ready to use.
I highly recommend you check out Botanical Interests for heirloom seeds.
Botanical Interests has over 500 high-quality varieties guaranteed to germinate and provide you great vegetables. No GMOs here. Not only is the seed inside their packets the highest quality available, their packets are designed to give you the information you need to be a more successful gardener!
Pic by La Grande Farmer's Market.