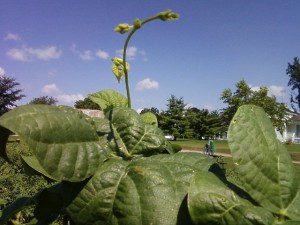 Have you started your annual garden or are you a first time gardener? It doesn't matter whether you're a veteran or novice gardener, pole beans are easy to grow and will provide variety and a high yield if properly taken care of.
Even if you have a small garden or sandy soil, pole beans are space conscious and hardy plants to grow. Follow these simple steps to provide you and your family, friends and neighbors a healthy alternative to store bought or canned green beans.
Simple steps to grow hearty and nutritious pole beans.
1. Plant pole bean seeds along the ridge of small hills in your garden, much like the cucumbers to allow room to grow and retain water.
2. Place a few seeds in 2 inches of soil and space each planting 14 to 16 inches apart.
3. Insert stakes, poles or small trellis near the pole bean plants once leaves start forming so the vines attach to the pole and grow upward.
4. Keep pole bean plants in full sun and give a good soaking every week especially if the soil tends to dry quickly.
5. Once the fruit develops on the vines about 65-90 days after seeds are planted, they are ready to be harvested. Snap beans off once they are smooth and full. Pick often and plants will continue to produce more beans throughout the season. Beans are over-mature when pods start to form.
Wash your pole beans before preparing and using with your favorite recipes. Store in the refrigerator or prep and freeze to use later.
I highly recommend you check out Botanical Interests for heirloom seeds.
Botanical Interests has over 500 high-quality varieties guaranteed to germinate and provide you great vegetables. No GMOs here. Not only is the seed inside their packets the highest quality available, their packets are designed to give you the information you need to be a more successful gardener!
Pic by apple_pathways.