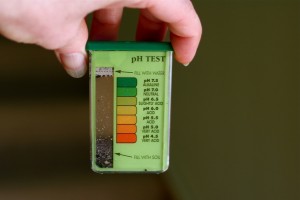 Many people know that an organic garden is one that doesn't use chemical fertilizers and pesticides. Because of this, organic vegetables are better for you and also tend to taste better as well. However, before you switch your garden over from a fertilizer and pesticide friendly one to a fully organic one, there are a number of things that need to be done.
The Soil Must Be Right
Before you start your organic garden, have your soil tested. In order for your organic garden to be successful, you need to have the right Ph balance. If your soil turns out to be too heavy in certain minerals or substances, there are steps that can be taken to solve the problem and correct your soil before you begin to plant. Also, if you previously used chemicals on your garden, you may have to have the outer layers of soil removed in order to get rid of any traces of them. Some types of pesticides and fertilizers will remain on the surface until they are physically removed.
Start with Healthy Plants
Since you can't help your plants along with chemical fertilizers, you have to start off with very healthy plants. If you plan on using your own seedlings, plant only the healthiest ones. The same goes for the ones that you purchase from a nursery. Look for plants that are a very healthy green color, and avoid those with yellowing leaves or black spots. If the plants look "droopy" this might be a sign that they simply need water, although it could be the first stages of disease. Be sure to ask the experts at your local garden center if you have any questions.
Make Your Own Compost
One great way to recycle, be environmentally friendly, and make sure that your organic garden receives a healthy all-natural boost is by making your own compost. Because it takes a while for leftover kitchen scraps, yard waste and other materials to turn into compost, start your compost pile far ahead of time. If you live in a cooler climate, start the summer before you plan to go organic. However, if your climate is warmer, a six month head start should suffice. This way you'll have plenty of composted soil to spread on your garden right before your plants go into the ground. Check out this guide for more information on Composting.
Use Smart Weeding Practices
If you wait until the weeds are enormous, odds are they've already harmed your plants as the weeds have leeched some of the nutrients and water out of the soil. Instead, tackle any weeds right away. Yes, this means spending some time in your garden every day to remove weeds while they are still small. When you pull up the weeds, make sure that the entire root is removed. This might mean using a small tool, like a spade, instead of just removing them with your hands. Any remaining traces of roots will just give the weeds a chance to re-grow in the same space, or even spread. Don't give them the chance to do so.
Do you want to be rid of pests in your garden?
If you've ever wanted to find out how to get rid of pests organically, then I highly recommend that you check out Companion Planting and Natural Pest Control for Veggies.
The Companion Planting and Natural Pest Control for Veggies can help you rid your garden of pests organically. You'll learn 7 proven strategies for discouraging pests and 11 must have plants which attract good predatory insects. Get this comprehensive and gorgeous book today.
Pic by Chiot's Run