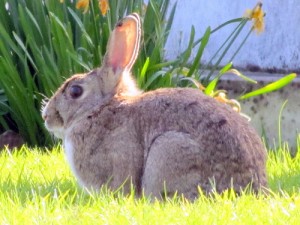 Using Rabbits for Meat
If you're interested in raising animals in your backyard, raising rabbits are a great place to start. They're easy to take care of, they're usually docile and they don't take many resources. In return, they'll provide you with a supply of inexpensive rabbit meat. Even with just a small amount of space you can easily keep a small group of these simple to care for animals.
While rabbit meat isn't the most common protein in today's diet, it's actually a great alternative to store-bought meats. Rabbit meat is very lean and healthy. Each rabbit can provide 2 ½ to 3 pounds of meat, which means you won't have to worry about an excess of food at one time. If you do want to store rabbit meat, though, it freezes very well.
Rabbits have a reputation for rapid mating, and this stereotype is well deserved. A typical doe (female rabbit) can have six or seven litters in a year, and each litter can produce six to eight rabbits. That's anywhere from 36 to 56 rabbits a year. And turnover is quick too – usually a litter is mature and ready for the table after ten weeks.
Another great advantage of raising rabbits is how economical it is to keep them. Creating a space for them to live (a structure called a hutch) does not have to be a big expense. This is especially true if you can find a used one. Food isn't a bit cost either. Store-bought pellets are not terribly expensive, and you can feed them scraps from your garden for smaller food bill. Giving them some outdoor space will allow them to supplement their diet even more.
One of the potential downsides to raising rabbits is the possibility of becoming attached. Let's face it – rabbits can be pretty cute! It's natural to worry about making meals out of animals that are seen as pets. What often happens with rabbits, though, is that most families start out with a doe intended for breeding. This doe becomes the animal that you become attached to because she stays with the family the longest. Her litters will come and go so quickly that you won't have time to get attached to them the way you would with a pet. Even so, it's best to make sure that everyone in your family is on the same page when it comes to your rabbits. As long as everyone is comfortable viewing them as food and not as pets attachment problems can be kept to a minimum.
Rabbits are an inexpensive way to start creating your own meat source. Whether you're a beginner in the world of self-sufficiency or a seasoned pro, you'll find rabbits to be well worth the time you put into them.
Pic by Mostly Dan.